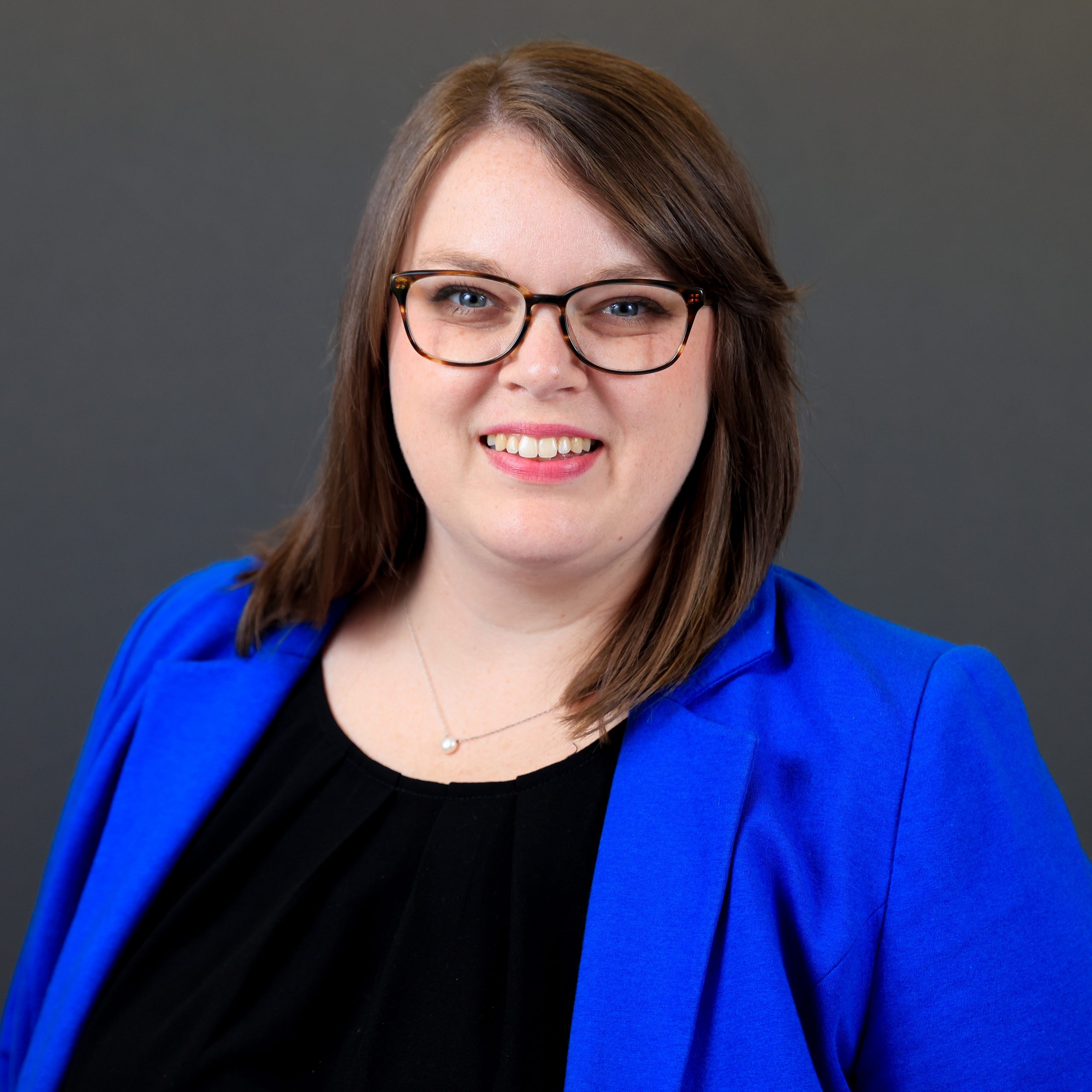 Sarah Stone, Communications Director for the Putnam County Community Foundation, has been selected as a member of the 2023 class of the Mutz Philanthropic Leadership Institute. Launched by Indiana Philanthropy Alliance in 2021, the Mutz Institute provides a leadership training experience to skill-up professionals serving in board and executive roles at foundations, corporations and social impact organizations across Indiana.
Stone successfully completed a competitive application process to gain one of 23 spots in this year's class.
Stone joined the foundation in May 2022 after several years in nonprofit development and communications. A graduate of Indiana University, Stone is passionate about supporting local and women-led businesses and nonprofit organizations and values family, community, and life-long learning. She resides in Cloverdale with her husband and young son, and she volunteers her time as an active member of the Greencastle Rotary Club, Impact 100 of Greater Indianapolis and several other nonprofit organizations in Central Indiana.
"We are proud of Sarah's philanthropic spirit and passion for ongoing learning, as highlighted by her acceptance into the 2023 Mutz Philanthropic Leadership Institute," said Neysa Meyer, the Putnam County Community Foundation's Executive Director. "This is a unique opportunity to learn about the philanthropic efforts around the state, and we look forward to seeing how this experience will support her both professionally and personally."
"We are living through one of the most taxing times in our history, and Indiana must have a new wave of sharp minds prepared to make substantial impact—ranging from education to economic development," said Claudia Cummings, President and CEO of Indiana Philanthropy Alliance. "This program allows us to honor John Mutz, who was integral in the founding of IPA, while developing a talent pipeline of diverse philanthropic leaders."
The Mutz Institute is named for former Indiana Lieutenant Governor, past Lilly Endowment Inc. president, IPA founder, corporate CEO and Indiana visionary John M. Mutz.
"The Mutz Institute will serve as a pipeline for the transformational philanthropic leaders Indiana needs now and in coming times," said Jamie Merisotis, CEO of Lumina Foundation, one of the program supporters.
Learn more about the Mutz Philanthropic Leadership Institute online at https://www.inphilanthropy.org/MutzInstitute.
About the Putnam County Community Foundation
The Putnam County Community Foundation (PCCF) works alongside individuals, businesses, and nonprofit organizations to build a stronger Putnam County. PCCF is home to more than 340 charitable funds and has awarded more than $19 million in grants and scholarships since its founding in 1985. To learn more about PCCF, visit www.pcfoundation.org or call 765.653.4978.
About John M. Mutz
Born in Indianapolis, John M. Mutz is a graduate of Northwestern University, where he earned both a bachelor's degree and master's degree in advertising and business management. He had a long career in business, including managing a chain of restaurants and serving as president of PSI Energy (now Duke Energy). Elected to the Indiana House of Representatives in 1967 and to the state Senate in 1970, he was instrumental in introducing the set of legislative reforms that came to be known as Unigov, the creation of IUPUI and the White River Park Commission, among others. From 1980-1988, he served as the 45th Lieutenant Governor, serving under Governor Robert D. Orr. Mutz later served as president of Lilly Endowment Inc. and chairman of the Lumina Foundation board of directors.
About Indiana Philanthropy Alliance
IPA is the largest association supporting effective philanthropy in Indiana. It represents a powerful network of foundations, corporations and other social investors working together to lead change, improve lives and lift communities. Members hold over $31.5 billion in assets, awarded over $1 billion last year in grants and are active in all 92 Indiana counties.
The Mutz Institute is a program of the IPA. Classes begin in January and meet once a month until October. For more information, visit www.inphilanthropy.org/MutzInstitute.