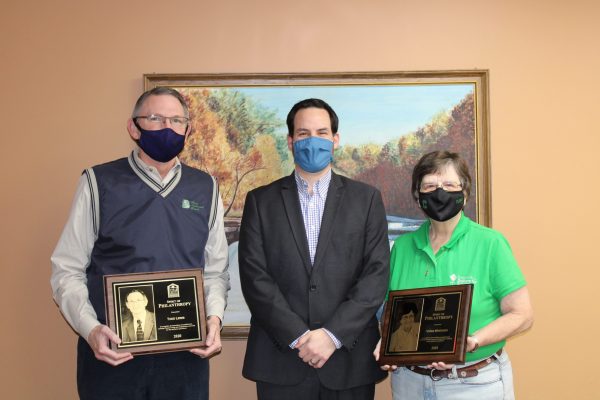 The Spirit of Philanthropy Award is the highest honor bestowed by the Putnam County Community Foundation board members and recognizes outstanding philanthropic achievement within the community. This award is not awarded each year, but after careful consideration, the Board has selected two recipients in 2020: Todd Lewis and Vivian Whitaker.
"We recognize Vivian and Todd for their dedicated service to the Putnam County and the Putnam County Community Foundation," said Brandon Wells, Executive Director. "Our county is better because of their vision and leadership."
If you are a lifelong resident of Putnam County, there is a good chance you either know or know of Todd and Vivian. Their commitment to the town of Cloverdale, and specifically to the Cloverdale Dollars for Scholars program, as well as Putnam County through their dedication to the Putnam County Community Foundation, has them involved in quite a bit.
Todd currently serves as Treasurer of the Cloverdale Dollars for Scholars program. Vivian serves as Secretary, where they have played an integral part in awarding more than $470,000 in scholarships to Cloverdale graduates.
Both Vivian and Todd are past board members and have been named Honorary Board Members. Vivian served as a board member from 2013-2018. Todd served from 2011-2016 and was president of the Board from 2015-2016. Vivian continues to serve on the Governance and Youth Philanthropy Committee.
Todd is actively involved in the Cloverdale Lyons Club and the 100 Plus Men Who Care program, among many other organizations and charitable initiatives.
Vivian serves on the Cloverdale School Board and is actively involved in EDGE 21, a Putnam County-based 501c3, to increase eligible students' enrollment in the 21st Century Scholarship Program.
"Todd and Vivian have played a leading role in enhancing the opportunities for the youth of this county to have their college education funded through the establishment of the Dollars for Scholars program at each school district in the county," said Phil Gick, PCCF Board President.
On behalf of Putnam County, congratulations Todd & Vivian! Your commitment to this county is exemplified each and every day.