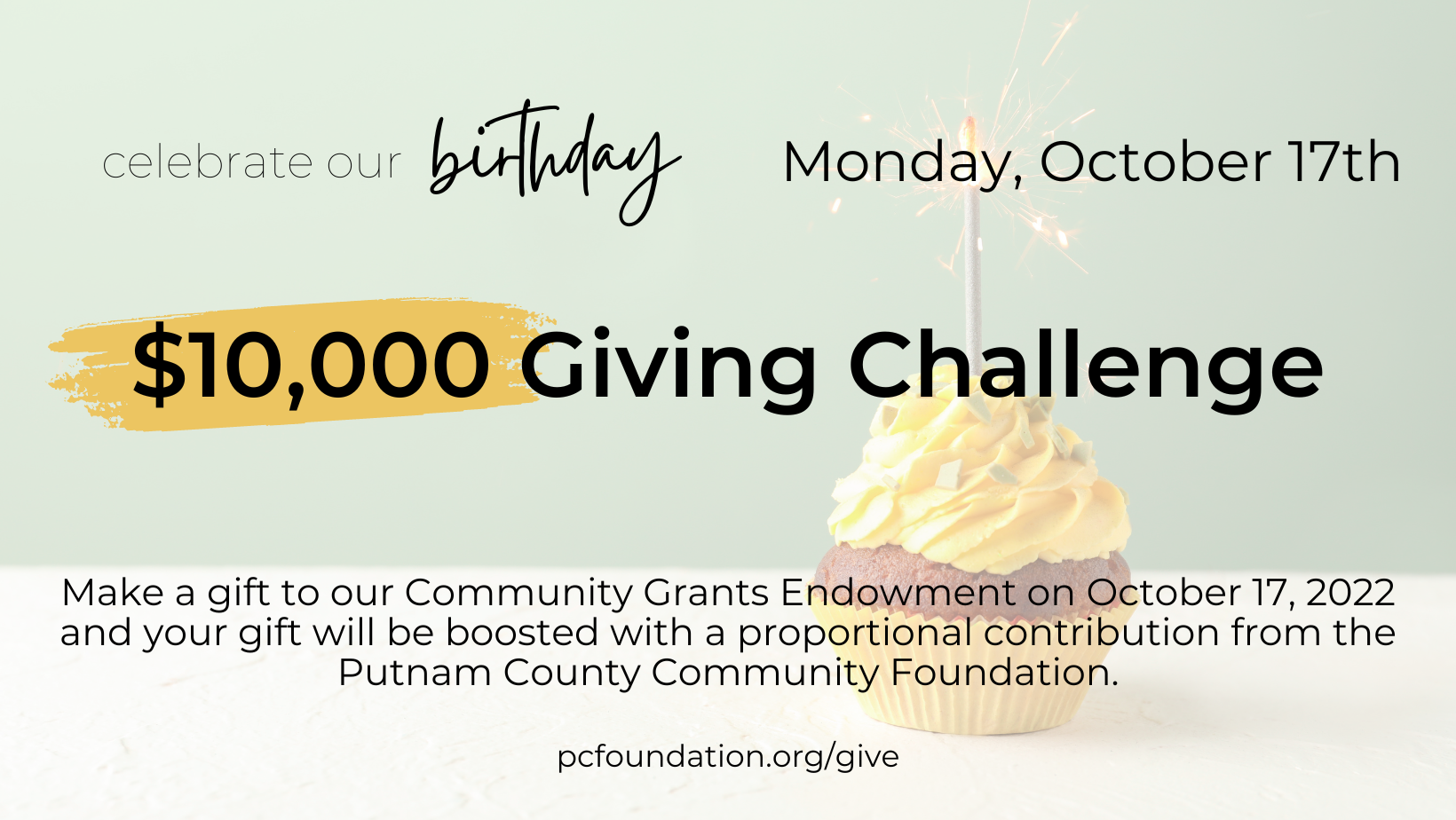 This year, we invite you to celebrate our 37th birthday by making a gift to the Community Grants Endowment or any other unrestricted fund which provides general benefit to our communities. Donations made on October 17 will be boosted by a $10,000 contribution from the Community Foundation. This contribution will be proportionally distributed among eligible funds which receive a donation of any amount during the Giving Challenge.
Just this year, the Community Foundation has awarded nearly $175,000 from the Community Grants Endowment and the additional 44 named funds that contribute to it. Several community organizations and partners have received grant funding from the Community Grants Endowment to increase their impact and better serve communities across Putnam County. The most recent grant recipients will be announced later this month.
For additional information about the Giving Challenge or other opportunities at the Putnam County Community Foundation, please contact us at 765.653.4978.

Art Evans Family Fund
Al and Joan Tucker Family Endowment
Aura May Durham Community Endowment
Ascena Retail Group Community Endowment
Bohmer Family Fund
Cunningham Family Community Endowment
Charles A. Jones Family Endowment
David and Susan Murray Community Endowment
David C. and Teresa L. Masten Community Endowment
DePauw University Community Endowment
Donna Draper Welter and William J. Welter Family Endowment
Ed and Ellie Ypma Community Endowment
Frank Hutcheson Family Community Endowment
First National Bank Community Endowment
100 Plus Men Community Endowment
Howard Moore Fund
Jinsie Scott Bingham Community Endowment
John and Marilynn Sturgeon Family Endowment
John and Rea Zeiner Family Endowment
Keith Berry Family Farm Community Endowment
Kenneth J. and Jacquelyn A. Eitel Community Endowment
Katherine A. Newkirk Community Endowment
Lyon Family Fund
Maxine Callender Community Endowment
Morris-Ensley Family Endowment
Mary Frances Fuller Community Endowment
McDonald's/Jedele Enterprises Endowment
Mary Louise Miller Philanthropic Fund
Neil and Michele Irwin Family Endowment
Nancy J. Davis & Robert V. Robinson Community Endowment
North Salem State Bank Fund
Old National Fund
Phillip and Susan Gick Endowment
Richard A. and Christina M. Bittles Community Endowment
Rokicki Cunningham Insurance Endowment
Schendel Family Community Endowment
Stuart Fabe and Marla Helton Endowment
Sally H. Gray Community Endowment
Susan & Gary Lemon Community Endowment
Sanford and Irene Romine Family Endowment
Thomas W. and Delores J. Crews Endowment
Todd & Suzanne Masten Family Endowment
Vicki L. and David C. Archer Community Endowment
100 Women Who Care Putnam County Endowment