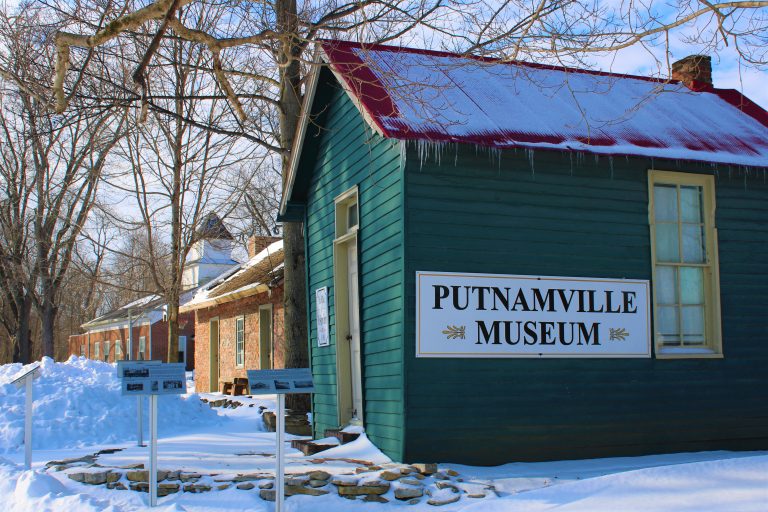 In 2005 the Dr. Horn Office/Putnamville Museum was established when Lee & Susan Stewart took it upon themselves to preserve Putnamville's unique history. When a unique opportunity to restore Dr. Horn's office arose, Lee and Susan decided to refurbish and relocate the historic building.
The Dr. Amos Horn 1884 Office was formerly located on the north side of US Hwy 40. It was moved across the street to the original Public Square adjacent to the Putnamville United Methodist Church. The Putnamville Museum houses pictures, artifacts, and printed history concerning the town and citizens of Putnamville and the surrounding area beginning in 1828.
In 2017 the Putnam County Community Foundation partnered with the Putnamville Museum to provide four exterior interpretive panels located outside of the Dr. Amos Horn Office. These signs share historical information about Dr. Horn, the town of Putnamville; US Highway 40; and the Putnamville School. The panels are especially appreciated when the building is not open for visitors.
In 2018 a second museum was added to the Putnamville Public Square when Lee and Susan acquired a historic building connected to the old Townsend Inn. Bricks from the 1828 former Townsend Inn Summer Kitchen and home to freed slaves were dismantled and reconstructed next to Dr. Horn's Office. This structure is now known as the Townsend/Layman Museum.
The Putnam County Community Foundation is proud to have been a part of preserving our county's rich history.
To learn more about the Putnamville Museum, please contact Susan or Lee Stewart at susan.lee.stewart@gmail.com.