The 2022 Putnam-Montgomery Nonprofit Learning Series is brought to you by the Putnam County Community Foundation and the Montgomery County Community Foundation, with special thanks to local sponsors.
CREATING A GOVERNING LEGACY
Presenter: Susan Decker
Dates: March 15, April 12, September 13, October 11, and November 8
Time: 11 AM – 2 PM
Cost: $30 per workshop, including lunch, or $125 when registering for all five workshops
** Attendees who attend all five workshops will be entered into a drawing to receive a $1,000 grant for their organization. A winner will be selected from both Putnam County and Montgomery County.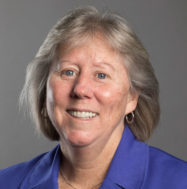 Susan Decker serves as a senior governance consultant with BoardSource, a Washington, D.C. based nonprofit governance sector leadership organization.  Over the past nearly three decades, Susan Decker has become a trusted partner to nonprofit organizations, helping to guide and support thousands of nonprofit boards across a spectrum of leadership initiatives, such as strengthening essential governance practices that ensure proper oversight and accountability. Just as important, she has helped organizations cultivate a culture of leadership and ongoing development that challenges individuals to continuously strive for stronger performance and better outcomes.  For the last decade, she has directed and served as faculty for the Master of Leadership Development at Saint Mary-of-the-Woods College in Indiana.  This graduate program works with business, non-profit, and public sector professionals in their educational journey of developing and expanding their leadership skills. As the lead trainer for BoardSource's Certificate in Nonprofit Board Consulting and the previous Certified Governance Trainer program, Susan has developed curriculum and facilitated train-the-trainer programs.
Critical Components of Governance: March 15 – Crawfordsville Country Club (3272 Country Club Rd.)
It sounds basic, but one of the fundamental challenges that far too many board members and boards have is that they don't have a strong understanding of their roles and responsibilities. Since it's impossible to do a job well if you don't know what the job is, all boards must take the time to ensure that every board member fully understands what's expected and needed of him or her, and then hold all members accountable when they get off track. This session will focus on the principles of board membership and the ways in which we can measure the success of the work of the board.
Avoid Board Meeting Boredom: April 12 – Crawfordsville Country Club (3272 Country Club Rd.)
This session will focus on tools to better engage board members during meetings as well as outline methods to encourage strategic thinking. Form follows function, or at least it should when it comes to boards. Without a strong structure, boards can fall prey to a whole host of dysfunctions, not the least of which is wasted time, boring or unfocused meetings, and lack of strategic engagement from the board. From determining what you want to accomplish to choosing the facilitation skill that will help get you there, you'll leave this session better prepared to lead and engage in meetings.
Serving as a Fiduciary For Your Organization: September 13 – The Inn at DePauw (2 W Seminary St.)
A board has a fundamental, legal responsibility to provide oversight and accountability for the organization. Referred to as the board's "fiduciary" responsibility, the board must ensure that the organization is appropriately stewarding the resources entrusted to it and following all legal and ethical standards. Knowing what questions to ask regarding financials, even if don't consider yourself to have strong financial acumen is important. This session will help familiarize you with the kinds of questions to ask and the information to look for in the answers.
Building A Culture of Philanthropy: October 11 – The Inn at DePauw (2 W Seminary St.)
A culture of philanthropy refers to your organization's attitude toward philanthropy and fund development (fundraising).As a charitable organization, an essential part of your organizational culture must include philanthropy. First, focus on culture, not strategy. Why is a culture of philanthropy so important? Because philanthropy is not just about raising money. This session will focus on building this culture and in helping even the most reluctant individuals to find their space in helping the organization raise funds.
Harnessing the Power of Your Board: November 8 – Crawfordsville Country Club (3272 Country Club Rd.)
Great board leadership takes intentionality and effort. Some of the most important work for a board includes assessment of the executive, succession planning, and working through challenging situations. This session will include board chairs, future board leaders and executives in collaboratively building some of the intentional practices that will allow the board to work seamlessly and with a purpose.