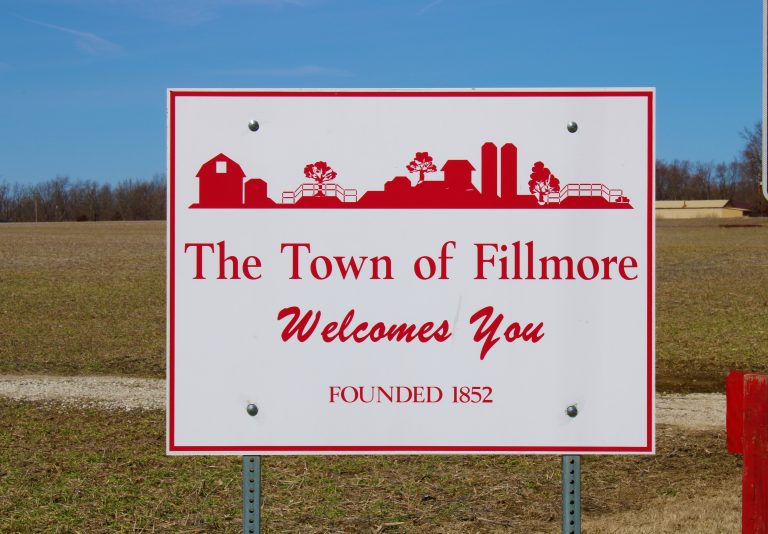 The Putnam County Community Foundation's first-ever grant, totaling $150, was awarded to the town of Fillmore in 1987 to cover the cost of incorporating as a town.
This grant was historic for the Community Foundation as it opened the doors to what the foundation would accomplish in the next 35 years. As of December 31, 2020, the Putnam County Community Foundation has awarded more than $1.1 million in grants and scholarships.
In February 2021, Brandon Wells, Executive Director, awarded another grant to the town of Fillmore. This time, to cover the expense of a new bulletin board to hang outside of the town hall.
"For the past 35 years, Fillmore has stood proudly as an independent municipality. The road to get there likely started with a group of dedicated individuals several generations ago that had the provision to see the benefits their labor would have on their constituents today. Some of those same descendants may find themselves soon gathered outside of Fillmore Town Hall to learn of the latest events or discuss future bulletin board material in their community," said Brandon Wells. "When I reflect on what I enjoy most about my role as Executive Director, it is these not so little things that come to mind; the group of likeminded citizens planning for the future together, the small town dreaming to be just a little bit bigger, and the small role I get to play in these moments."
Community grants are made possible through unrestricted endowments, which allow the Community Foundation to respond to changing needs in our community by awarding grants in all geographic and philanthropic areas in Putnam County. This is don't through a competitive application twice a year. The Grants Committee reviews, researches, and makes recommendations to the Board of Directors. 
Click here to see a list of the most recent grants awarded by the Putnam County Community Foundation.