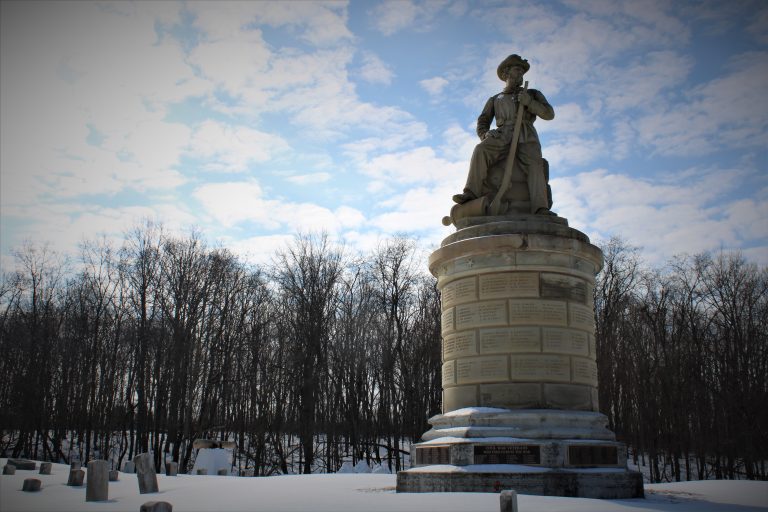 Dedicated on July 2, 1870, the historic Civil War Soldier Monument in Greencastle's Forest Hill Cemetery stands over 29 feet tall. The monument, titled "Western Soldier on Guard," bears the names of 321 Putnam County soldiers who died during battle. It was dedicated just five years after the war ended in 1865. It is estimated that more than 8,000 people attended the dedication ceremony, traveling near and far to see the monument unveiled in person.
Due to years of wear and tear, pieces of the limestone structure began crumbling as it neared its 142nd anniversary. In 2011, the Heritage Preservation Society (HPS) took on the daunting task of restoring the monument to its original glory. After five years of planning and fundraising, the HPS contracted with Blakley Corp., and restoration work began in 2017. The monument was rededicated on July 1, 2018, during a ceremony attended by community members, local government officials, and military representatives.
HPS left no stone unturned during the fundraising process, seeking funding from community members, businesses, and other charitable organizations. Being no stranger to the Putnam County Community Foundation, HPS sought grant funding in 2016. In fact, HPS had previously partnered with the Community Foundation to establish an endowment to assist with the operations of the organization. In 2012, they established their second endowment, the Heritage Preservation Society Projects Endowment, as an avenue to support expenses associated with their ongoing projects, including the monument. An endowment builder, matching grant, and a donation from Indiana Landmarks gave the endowment an excellent start during its first year.
The Community Foundation awarded a $65,000 grant to HPS, as part of Envision2016, to assist with the costly restoration. The Community Foundation is proud to have partnered with HPS on this monumental project for Putnam County and appreciates
Thank you to HPS for ensuring Putnam County's rich history remains a part of our community!
The Heritage Preservation Society's (HPS) mission is to promote and encourage interest in the historic structures, history, and heritage of the Putnam County Area and facilitate the identification, preservation, and restoration of the historical heritage. To learn more about the Heritage Preservation Society, visit https://heritagepreservationsociety.org/.